Why so many Rainbows?
The Rainbow Coast is in one of only six regions in the world that have a wet winter / dry summer climate. (They call this Mediterranean-style, but we call it home!) Therefore, it rains. In winter.
Being at this distance 'downunder' - the Rainbow Coast is perfectly placed to enjoy the spectacle of Rainbows.
During the winter months (which is the rainiest time of the year for all of WA) the sun is closer to the northern horizon as we are tilted away from the sun.
In order to see rainbows, the sun must be within 42 degrees of the horizon, as well as behind you.
As the rain usually comes off the ocean from the south west which geometrically means "rainbows, rainbows everywhere!"
Essentially: If you visit in the winter time, face south and look for rainbows.
Don't be fooled by the name! The yearly average rainfall along the coast is the same as Perth and Broome. (Australian Bureau of Meterology) For instance, in July 2008 Albany had only 2mm more rain than Perth, and 5mm less than Rottnest Island.
Because rainbows change with the location of the observer, everyone's rainbow is slightly unique. However, at the top we will all see RED (the longest wavelength that we can see), then orange, yellow, green, blue and violet at the bottom/inner side.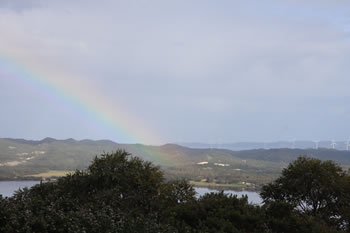 Rainbow over the Albany Wind Farm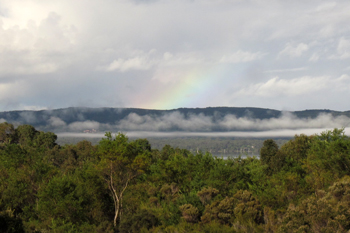 Rainbow over the Wilson Inlet reflecting off the morning mist. Denmark.
Wikipedia has an article with more details about rainbows across disciplines: http://en.wikipedia.org/wiki/Rainbow